So We have all seen terrible design and corporate logos that are terrible. You just know it when you see it. Other times we see something so simple and effective we have to appreciate the identity. A simple "swoosh" and you know exactly what the company is and what it basically represents. What used to be a few strange random colored letters of a weird name, google, is now an everyday part of many peoples lives.
But what happens when a company doesn't take enough time to fully understand the consequences of bad logo design (or company naming)? We get to take pictures and laugh of course!
Like these guys…were they just too cheap to pay for spaces when getting their sign made?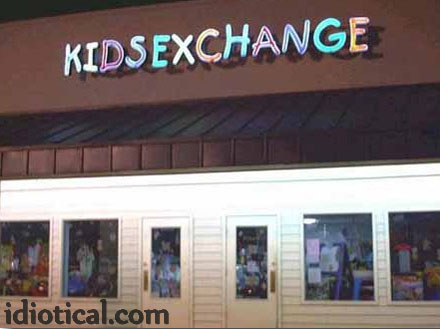 Ok, this last one isn't a company logo but either it was terrible planning or some cool civil engineer with a hell of a sense of humor…who now needs a job.
Tagged as: Bad Company Logos

Published by Iamidiotical in: Funny Pictures
2 comments to "Bad Company Logos = Someone Got Fired Or Got Disappeared!"
If you like this blog please take a second from your precious time and subscribe to my rss feed